Coming Soon
Co-op Market is a grocery store established by member-owners to serve the Fairbanks area. We will offer organic and whole foods, local food and other healthy products. The store will be located in part of the Foodland Building on Gaffney Road. Find out more.
Table Talk
Host a "Table Talk" in your home, church or workplace. A Co-op Market board member or volunteer will answer your questions in an informal atmosphere.
Cooperatives Helping Cooperatives
Spirit of Alaska, Fairbanks largest locally owned and operated federal credit union joins Golden Valley Electric Association (GVEA) in the effort to build a member-owned grocery store in downtown Fairbanks.
---
Golden Valley Electric Association
---
GVEA will apply for a $300,000 economic development grant from the U.S. Department of Agriculture (USDA) to establish a revolving economic development loan fund in Fairbanks. Co-op Market has been selected as the first loan recipient!
breitling replica

---
Seeking General Manager
Co-op Market is currently seeking a full time professional General Manager to open and operate our natural foods and products store and café. It is our goal to fill this position by July 2011.
To apply, please review the job description then send your resume, professional references and a cover letter describing your desire and highlighting your skills to help make our members' vision a reality. Send applications to: [email protected].

---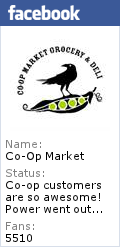 E-News Archive
Community Partners
We offer this advertising opportunity to businesses who would like to assist Co-op Market in a mutually beneficial manner. Call 457-1023 to find out how you can participate.
How important is access
to local food in your life?